Data release
Data will typically be presented across a ten year period (where available), retrospectively analysed and updated, on the website, twice per year. This means that each 6 month period, new indicator data will be added as it becomes available and existing data will be amended where required. These releases will typically be available to the public towards the end of the second and fourth quarters.
If you would like to be notified of updates, please join our mailing list.
Bulletins
Bulletins are distributed to AODstats subscribers with each new data release. Each bulletin highlights different topics and provides an overview of currently available datasets. Please click below to download the latest bulletins (PDF).
Bulletin #2 provides an overview of the impact of alcohol in the community comparing the most recent data available. We've also added four new datasets to the website: Serious Road Injuries, Deaths, Assaults and Family Violence.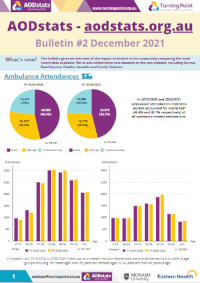 Bulletin #1 covers the relaunch of our website with brand new mapping software. This bulletin gives an overview of our currently available datasets:  Ambulance attendances, Hospital admissions, DirectLine and Counselling Online. Each subsequent bulletin will highlight different topics.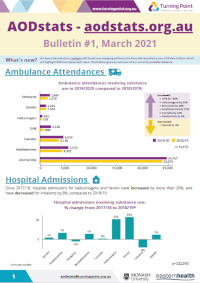 Analysis
Analysis of data involving alcohol and other drug use in Victoria are presented into the following drug categories (where possible):
Alcohol (with or without other substances)
Alcohol only (intoxication without other substances) – ambulance data only
Amphetamines (Any)
Amphetamines  (Crystal) – subset of Amphetamines (Any)
Analgesics
Antidepressants
Antipsychotics
Benzodiazepines
Cannabis
GHB
Hallucinogens
Heroin (Any)
Heroin Overdose (Responded to Naloxone)
Illicit Drugs (Any)
Inhalants
Opioids
Other sedatives
Other Stimulants
Pharmaceutical Drugs (Any)
Pharmacotherapy